As a man ages, health problems become a common phenomenon.
Sometimes the problem might be something you never would have expected, like small penis size, premature ejaculation, and erectile dysfunction.
If troubled with such condition, you might feel embarrassed and hesitate to consult a doctor.
Instead, you might take help of the Internet in search for the products advertised to greatly improve your sexual health.
But, do you know…?
Products obtained from sources online, pharmaceutical stores or back-alley dealers are usually of dubious origins.
Their authenticity, quality, contents, safety, and efficiency cannot be assured. Dangers abound when using these illegal male enhancement pills, and you're risking your health and life for that moment of pleasure.
Turns out, BIGGER can be BADDER; many male enlargement products claiming to enlarge men's genitals are misleading and potentially even deadly, according to doctors and federal experts.
Sexual male enhancement is a big and profitable business. Last year, a product called Viagra (popular name in male enhancement industry) the pharmaceutical market leader, raked in about $2 billion.
That success has laid a shadow industry of largely unfettered "natural male enhancement" supplements.
However, according to Food and Drug Administration (FDA), some of these male sex pills aren't tested, aren't natural and some might even be dangerous.
There are hundreds of fake male enhancement products you can buy online that advertise to be able to:
Enhance pleasure during sex
Increase penis size and girth
Help you get and maintain erections
Make your penis bigger
Help you last longer in bed
Give you harder or stronger erections
But pills advertised online are often unregulated, illegal, and potentially dangerous.
Here's the list of 5 male enhancement products which Food and Drug Administration (FDA) issued health cautions and told companies to get them off the rack.
Top 5 FDA Banned Male Enhancement Supplements
Vigor-25
Man Up Now
Duro Extend Capsules For Men
Stiff Nights
Vitalex
FDA has acknowledged that a number of over-the-counter products are often represented as male enhancement supplements containing hidden ingredients that could be deadly Sexual Enhancement drug.
Customers may unknowingly take products to blend with changeable quantities of approved prescription drug ingredients, unstudied and untested pharmaceutically active ingredients and a controlled substance.
These false products can harm you!
Remember!!
FDA cannot test all the male enhancement pills on the market that contain potentially harmful hidden ingredients.
Consumer advisories and enforcement actions for tainted products only cover a small portion of the tainted over-the-counter products on the market.
Now take a look at the top illegal male enhancement pills mentioned below:
#1. Vigor-25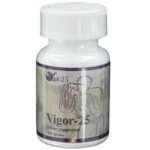 Vigor-25 may be keeping hope alive for its users, but according to FDA statement, the product is promoted as a "naturally dietetic supplement" to improve male sexual performance, is actually giving customers a dosage of sulfoaildenafil, a chemical comparable to sildenafil, the active ingredient in Viagra.
The FDA's warning letter states, "Vigor-25 is dangerous to customers because it claims to contain only a blend of natural ingredients while it actually contains a prescription drug ingredient". [Source…]
#2. Man Up Now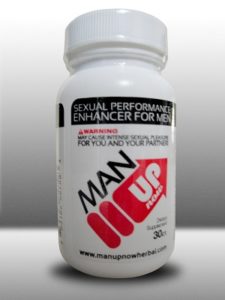 Man Up Now sounds pretty much like a name for a herbal and all natural male enhancement products. But the FDA criticized those claims thereby giving warnings to customers to stop using them immediately.
The issue, says the Food and Drug Administration, is the supplement uses sulfoaildenafil, a chemical similar to sildenafil, one of the key ingredient of Viagra.
It's proved, sulfoaildenafil have dangerous interactions with others prescription male sex pills such as nitrates, which can cause dangerously low blood pressure.
Also, sulfoaildenafil has not undergone any scientific test or clinical trials as sildenafil, so all its effects are unknown.
But because customers think they are taking a "natural" supplement they do not care to even consult their doctor.
#3. Duro Extend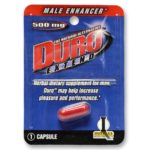 Duro Extend manufactured by Intelli Health Products, a Miami-based company, have been recalled in the U.S.A precisely due to safety concerns.
These capsules contain ingredients that an uncertified new drug analog that could be dangerous for men who use them if at the same time they're using different forms of nitrates such as nitroglycerin.
When these elements are used at the same time, it can result in a dangerous lowering of blood pressure to the point where serious medical fallout can occur.
In early December 2010, FDA recalled the product because the "sexual enhancer" is secretly supplemented with sulfoaidenafil, a chemical similar to Viagra, but not tested.
#4. Stiff Nights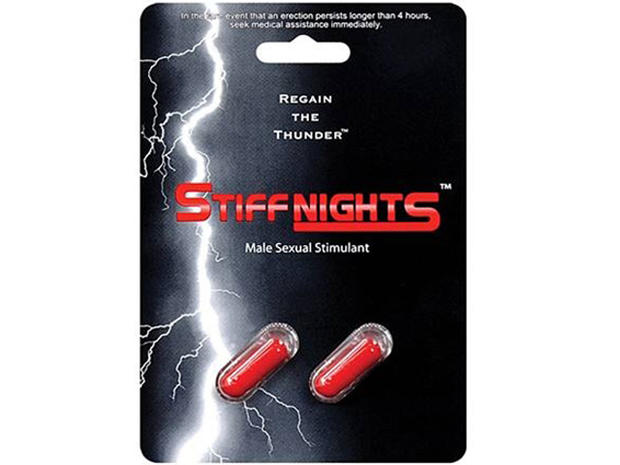 Although, it's not clear if Stiff Nights is a "sexual male enhancement" as its manufacturer claims, but in either case FDA says men looking to "regain the sexual confidence" should stay clear because the pill certainly contains sulfoaildenafil, an unapproved chemical similar to the active ingredients in Viagra, which can intermingle badly with nitrates and cause low blood pressure.
The Food and Drug Administration (FDA) is instructing customers not to use or purchase Stiff Night, a product advertised for sexual enhancement. This supplement was identified by FDA during an inspection of international mail shipments.
FDA laboratory analysis report confirmed that Stiff Nights contains sildenafil, the key ingredient in the FDA approved prescription supplement Viagra, basically used to cure erectile dysfunction (ED).
This unapproved ingredient may merge with nitrates found in some medicament drugs such as nitroglycerin and may lower blood pressure to dangerous levels. Men suffering from high blood pressure, diabetes, heart disease, or high cholesterol often take nitrates.
#5. Vitalex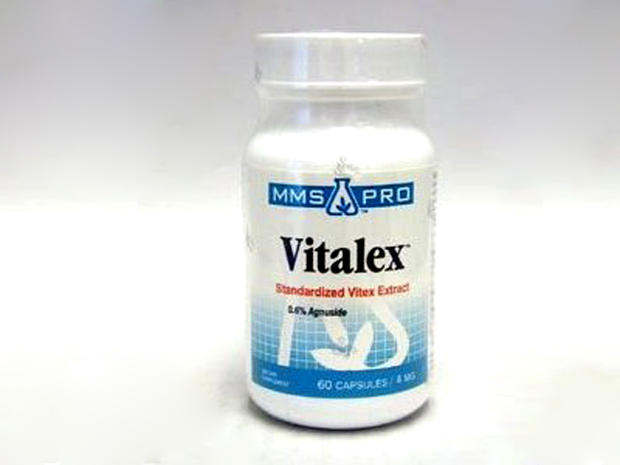 Vitalex Male Enhancement is a new male enhancement claims to improve your stamina and performance. The manufacturer of this supplement promises that with the New Vitalex Pills you can achieve the energy performance and strength that made you a desirable man.
But is this male enhancement product safe for consumption or is it FDA approved?
Well, the answer is NO!
The FDA doesn't acclaim hitting up Luong for the pill, however. They say Vitalex's "all herbal" and "natural" concoction is actually acetildenafil, another chemical similar to the drug in Viagra, but uncertified.
So, if an individual wants or try to purchase Vitalex, he might consider a trip to a federal prison in Texas, where Phu Tan Luong, the company's founder has found to engage in irrelevant Medicare fraud and now is in the imprisonment of 10 years.
Now if you've gone through these top 5 male enhancement pills then you must have noticed that all the supplements contains a common ingredient called Sulfoaildenafil.
Since Sulfoaildenafil has not undergone through any clinical trials, thus FDA warns consumers to "stop using them immediately" as it can have dangerous effects on your health, even it can cause death.
Want to know more about Sulfoaildenafil?
Let's take a look…
What Exactly Sulfoaildenafil Is and What Are It's Side Effects?
Sulfoaildenafil (thioaildenafil) is basically a synthetic chemical compound that is an essential analog of sildenafil (Viagra). The chemical was first reported in the year 2005, and it is not approved by Food and Drug Administration (FDA) or any other health regulation agency. Just like sildenafil, sulfoaildenafil is a phosphodiesterase type 5 inhibitor.
Sulfoaildenafil has been found in a variety of male enhancement supplements (some of them are listed in this blog) which are sold as "herbal" or "natural" sexual enhancement products.
Here is the deal:
A variety of designer analogues of USA FDA-approved inhibitors of type-5 cGMP-specific phosphodiesterase (PDE5), such as vardenafil and sildenafil, have been identified in recent years as counterfeit over the counter dietary supplements and dietary supplements.
Although, these were in an apparent attempt to dodge both the legal restrictions on sale of erectile dysfunction drugs, which are FDA approved supplements in most Western countries, and the clear protection which prevents the sale of these drugs by competitors except under license to their inventors.
In addition, these compounds have been verified to display PDE5 inhibitory activity in vitro and seemingly have similar effects when consumed, but have undergone no clinical trials and testing in either humans or animals and as such signify health risk to customers due to their unknown safety profile.
However, some attempts have been made to ban these male enhancement pills as unlicensed supplements and the laws are drafted to ban analogs of illegal male enhancement pills, rather than analogs of prescription medicines.
One of the court cases has resulted in a product being taken off the market.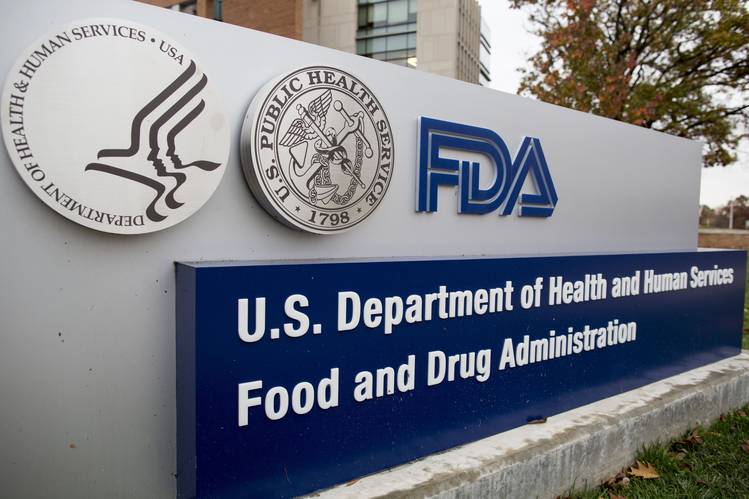 In December 2010, the United States Food and Drug Administration (FDA) issued a warning about such illegal supplements stating:
The FDA has found many products marketed as dietary supplements for sexual enhancement during the past several years that can be harmful because they contain active ingredients in FDA-approved drugs or variations of these ingredients.
So, Should you risk buying these illegal male enhancement pills?
Of course, NOT!
If you're looking for a legal FDA approved male enhancement pills then make the correct choice and do not buy illegal sexual enhancement drugs from dubious sources.
Now you must be wondering how to choose the right male enhancer!
Well, let me help you…
Below are some quick tips that will help you make a correct choice and choose the best suitable male enlargement pills for you.
Things You Should Always Keep In Mind While Purchasing Male Sex Pills
Avoid dubious sources selling medicines
Counterfeit and adulterated supplements may have names and appearance similar to those available for sell in pharmacies and clinics. However, they are likely to have poor quality control all through manufacturing and also from dubious backgrounds.
These male sexual enhancers may also contain pharmaceutical ingredients which can be harmful and even dangerous to death if you take these without proper supervision from your doctor.
Beware of treaties that seem too good to be true
Be wary of male enhancement products which are selling at significantly cheap or lower prices than pharmacies and clinics.
Isn't it too good to be true situation?
It usually is.
This is the reason why I suggest you to always buy your supplements only from registered pharmacies, clinics or manufacturing dealers.
It will not only help you in getting the genuine product but also some special offers associated with it.
Don't be fooled by the False Claims
Miracle Claims – Customers should always be attentive and cautious of products that promise fast results. This kind of penis enlargement products come to a price which is not stated within the sales pitch – dangerous side effects and even death!
100% Claims – No product out there is completely free from risk. Some of these herbal or natural supplements have been found contain potent ingredients.
Scientific Claims – There are products that make claims based on scientific studies and evidence. Some supplement companies go as far as to reference medical journals that have published research papers specifically on the topic. This is why it is suggested to always consult your doctor before using such supplements.
Personal success Claims – Marketing gimmicks such as customers testimonials are often hired by sellers.
Consult Your Doctor!
With the numerous information that is available all over the Internet today, the trends these days is for people to self-medicate.
Although, this can be risk-taking and dangerous because you may misdiagnose your ailment, and by not visiting the doctor, you run the risk of it getting worse.
So always take proper advice from your doctor on your medical condition.