Do you wanna have a threesome and try something more adventurous?
Let's explore 7 best threesome sex positions to take your sex life to the next level.
Maybe it's your first time or maybe it's the thousandth. May your last attempt for great sex didn't go well as you wanted. Also, the chances are high that both you and your partner just wanted to make sure, this time no one's toes get stepped.
Well, whatever the situation is: I'm here with these 7 threesome sex positions, you may increase your chances of having an overjoying three-way.
Threesome sex might actually pretty common and can go beyond your thoughts.
In the year 2016, a survey was conducted on 274 heterosexual people who aged between 18 to 24. In the study, 24% of men and 8% of women informed about their previous threesome experience. While on the other hand, the survey concludes – 31% of women and 82% of guys would be into exploring the possibility.
Now speaking with 8 people who'd involve themselves in threeways, MaleX Pills found that most volunteers walked away from their encounters feeling satisfied and happy, but some viewed the operation as weird, confusing and relationship-complicating.
And certainly, planning with all those members in a single play can make the situation a bit awkward. So now the question arises – how do you keep things hot?
According to Dossie Easton, L.M.F.T., a psychotherapist, relationship counselor, and author –
In threeways one thing you want to remember is that these roles of give and take can change and only change. If you're giving more at this time, you can be receiving more, later. But there's no time limitation – as how much time you spend. No one here is in a hurry, we're not being efficiency experts. Threesome is all about pleasure.
So, it's the time you must know what the best threesome sex positions are.  Be prepared if this is a first time for all of you, it's completely normal.
7 Threesome Sex Positions That You Need To Know!
Below I have mentioned some of the best FFM threesome sex positions for you and your partners to try out.
#1:

Double Cowgirl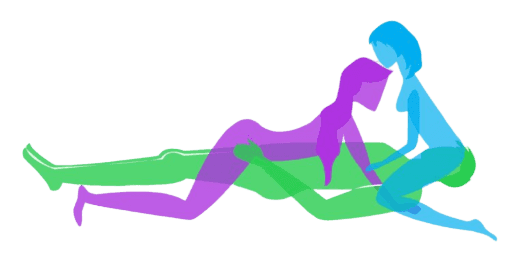 This FFM threesome sex position, with the woman on top, is just like the traditional position. But in this scenario, there's one guy on the bottom and two women on top.
Here's how it goes: At first the guy lies down on his back. One woman straddles him facing towards his face. The second women kneel over the guy's face where he performs oral on her.
For women, it's a great position because it allows them to have total control. The guy just lies down and has free range of his hands to feel around however is basically blind. The two girls can play, touch and kiss each other all the time while being pleasured by the guy.
#2:

The Doggy Train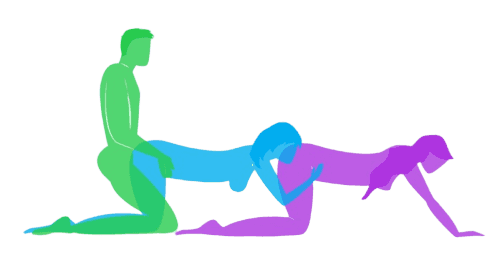 The threesome doggy train is a brilliant discrepancy on the old doggy style but only when it is done with oral. In this threesome sex position, the first woman and the guy both enter into doggy style position simultaneously.
Further, the second woman also undertakes the position of doggy style adjoining the first woman.
In this way, the guy penetrates the first partner, and from the behind, one woman is performing oral on the other woman.
Although this position can make you feel steamy hot, nonetheless it doesn't afford a lot of intimacy. YES, it's a fun position but only when you're the guy who succeeds in getting a great view of the action.
This position works great if you don't want your man to have that much contact with the second woman.
#3:

Double Dip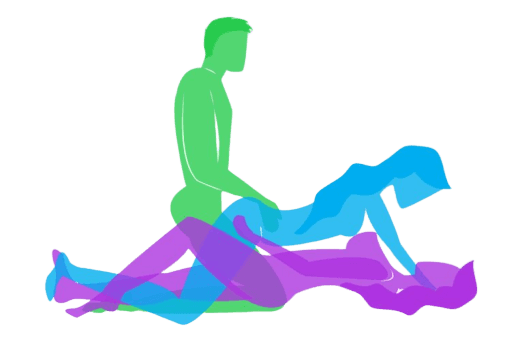 Numerous research stated this the best threesome MFF sex position. This particular pose ensures that everybody is getting equal attention and no one feels left out. In this sex position, both the woman lie on top of each other where they are free to kiss, grind and use their hands.
Women who are desperate to explore the FF part of the FFM threesome, this sex position is for you.
But don't worry, the guy is still inside the game. The man gets to enter behind the women where he has access to penetrate both women, this is why this sex position is named double dip.
The man can hang back to get a great view of the action and can alternate between the two women.
#4:

The Tag Team Threesome Sex Positions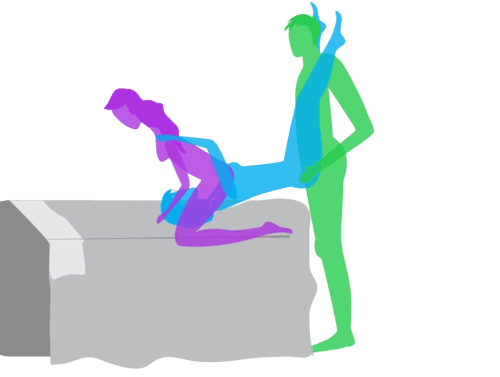 For a woman, this is definitely a great FFM threesome move. This sex position gives women an immense pleasure as they can really enjoy both being the center of the man's attention and giving oral to another woman.
In this pose, one woman lies on the edge of the bed whereas the man is penetrating her. The second woman then stoops over the first woman's face, fronting away from the man.
It's a great threesome sex position for the two women to get really intimate with each other while observing the penetrating action of the man.
Although this position can be a little exhausting for all.
This is because all involved women and man may not be able to be sustained for long. But as you are in it, you'll rock your world.
#5:

The Math Equation (69+1)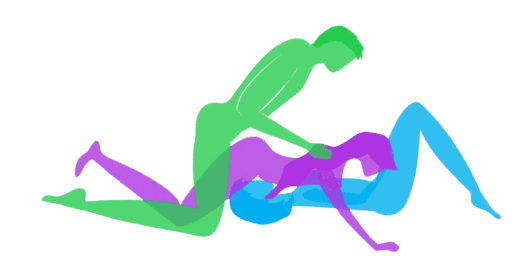 Do you know that this FFM threesome sex position is called the math equation (69+1)! YES, this is because it's basically the original 69 position plus 1.
Well, it sounds interesting. Now, let's break this down.
In this threesome MFF, the two women get into 69 position, the first woman lays flat on the bottom while the second woman gets on top, in standard 69 position, with her face facing away from the other woman's.
Now we've got the 69 and only 1 is remaining here – the guy. The man enters the equation penetrating one of them from behind. He also has the option of holding back and watching for a while, if he needs to casually join in on the action with his tongues, fingers, or hands.
This FFM threesome position is considered to be one of the most flexible positions and is excellent for the end of your threesome when you're starting to get tired.
#6:

The Voyeur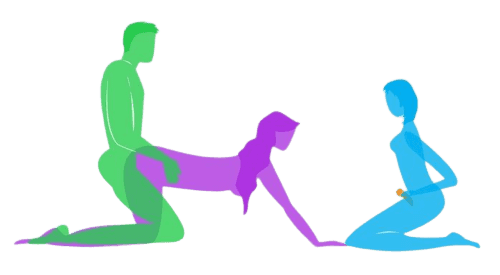 This is a great option for people who are new to threesomes. In this sex position, the guy and first woman have sex in doggy style position while the second woman watches them and having sex and masturbates.
Couples who are into having someone else watch them having sex and for couples who aren't ready to have a threesome, this is a perfect position.
This sex position is great to start as everyone gets comfortable soon. From the observer, it's effortless to switch to other positions or just stay in the position the entire time, whatever floats your boat.
#7:

Daisy Chain Threesome Sex Positions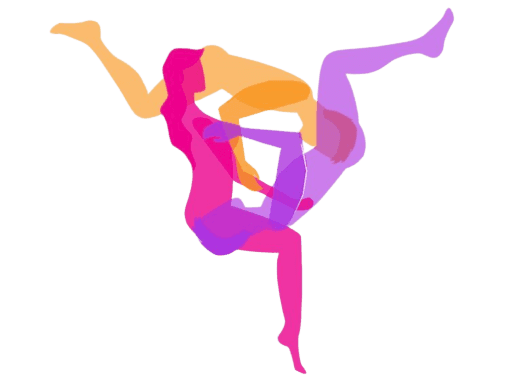 One thing you should always remember that a threesome has three mouths and sex hands to enjoy sex with.
While the woman participating in this activity finds it much simpler to concentrate on bijective oral pleasure. So, in this case, the Daisy Chain offers you a golden chance to make use of all three mouths. It's pretty easy to implement.
People taking part in this sex position lay down on their partner's side, forming a circle, with their face at their neighbor's crotch.
The first woman performs oral sex on the man who is already performing oral sex on the second woman, who is performing oral sex on the first woman.
In simple words, the woman one performs oral sex on the man, who is performing oral sex on the woman two, who is performing oral sex on the woman one.
Really, when it comes to threesome sex positions, you're only limited by your flexibility and imagination. There're so many ways to change it up and play.
You could have an MFF threesome every day for a month and always explore new ways to indulge.
Always remember the golden rule – For a safe, sane and consensual sex consider to check in often with your playmates to make sure everyone is enjoying themselves. Always practice for safe and great sex. This means changing condoms between partners and between anal and vaginal as well.
IS HAVING A THREESOME SEX POSITION FOR YOU?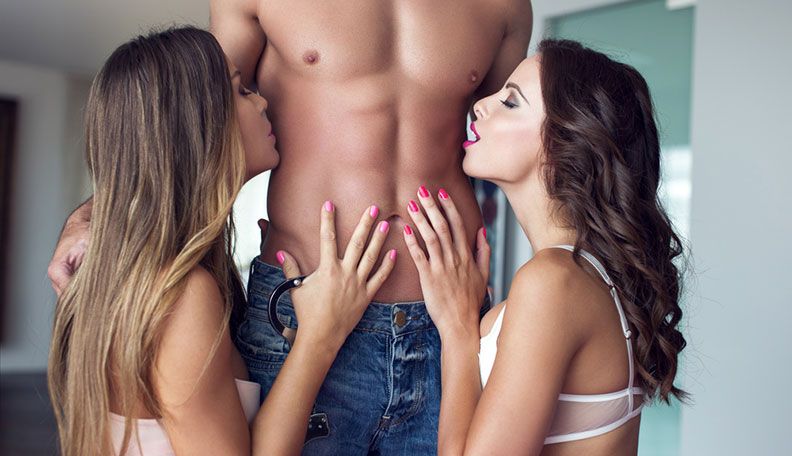 Well, there're a number of reasons why people are switching for threesome sex, if they are fascinated about kinkier sex.
The person who is trying threesome sex for the first time can actually get to know someone new sexually.
Also, you can try another person's style without double-dealing with your lover or spouse.
One thing you should know that if you've never been with a woman sexually, then a threesome might provide you the golden chance.
Likewise, it can be an opportunity to be with another man if you've only ever been with your female partner.
Some people love to watch their partner having sex with another person, and a threesome allows this in a safe environment. This situation can be something particularly erotic for them, especially if you plan it out!
Furthermore, when you enjoy sexual pleasure, you get the experience of being watched by a third person.
Additionally, a threesome might feed into your kink if you're an exhibitionist or a voyeur.
Finally, it's very important to mention how astonishing it can be to experience stimulation from two directions at once.
With just one partner, while kissing a man, you can't experience a tongue on your clit, but inviting a third person for this threesome can provide you with more intense pleasure than ever before.
Also, with adding a third one you've got twice the options to be giving, too!
So what are you waiting for?
Get out there, find your perfect partner and have yourself one of the most enjoyable and sexy experiences you're ever going to have!
Recommended Post:
5 Best Exercises for Harder Sex Poses [YouTube] – Sexual Exercise